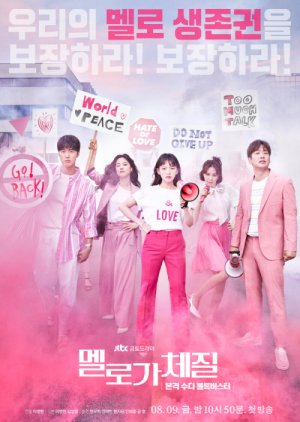 Be Melodramatic
Yeoeuido Scandal , 여의도 스캔들 , Melo is My Nature , Melloga Chejil , Romance Is My Disposition , The Nature of a Melo , Melo Suits Me
Genres: Comedy, Friendship, Life, Melodrama, Romance
Status: Completed
Network:
jTBC
Released: Aug 9, 2019 - Sep 28, 2019
Country:
South Korea
Type: Drama
Episodes: 16
Director:
Kim Hye Young
Casts: Ahn Jae Hong, Chun Woo Hee, Gong Myung, Han Ji Eun, Jeon Yeo Bin, Yoon Ji On
Posted On:
Updated On:
Synopsis Be Melodramatic
Im Jin Joo, Lee Eun Jung, and Hwang Han Joo are best friends who are 30-years-old.
Hwang Han Joo is the head of a marketing team for a drama production company. She is a single mother who struggles to balance her work and personal life as she is raising a kid.
Im Jin Joo is a drama writer with a lot of emotional ups and downs. Her personality is unique, talking to
Keywords: watch be melodramatic, be melodramatic subbed, download be melodramatic, stream be melodramatic